Cellulite is as misunderstood as it is common—at least among women. The search for an effective, long-lasting non-surgical cellulite treatment is somewhat of a holy grail in the aesthetic field. QWO is a breakthrough cellulite treatment now available at our Los Angeles-area plastic surgery practice for women tired of having dimpled buttocks.
What Is Cellulite?
Many people associate cellulite with being overweight. That's not correct. Cellulite is something that almost all women—as many as 9 out of 10 women—have at some point in their lives. This is true for women who exercise regularly and eat a healthy diet. The confusion about cellulite's causes stems from the fact that it does involve fat. The bottom line is that women of all ages, colors, and body types get cellulite.
Cellulite doesn't pose any health risks, but it can make people self-conscious about wearing swimsuits or shorts. Cellulite develops when fibrous bands that connect the skin to a muscle pull down and fatty tissue pushes up through the bands, creating the "cottage cheese" appearance on this skin's surface. Even though younger women may have cellulite, it's often more visible in older women because the skin loses its thickness with age.
What causes this to occur isn't really known, but researchers have linked cellulite to genetics, lifestyle, and gender—it's much less common for men to have cellulite. That's probably because women store fat differently than men, specifically in areas such as the thighs and buttocks.
Can Liposuction Treat Cellulite?
Liposuction removes unwanted fat from the buttocks. Because it's not excess fat that's responsible for causing cellulite, liposuction isn't an effective treatment.
How Is QWO Different From Other Cellulite Treatments?
Cellulite treatments―ranging from topical creams to minimally invasive procedures that sever the fibrous bands responsible for the appearance of cellulite―have been available for years. Laser fibers inserted just below the skin's surface aim to melt fat cells and slice the bands pulling down on the skin. Other methods involve radiofrequency energy that targets the fatty tissue.
The success of these procedures varies, but many experts believe QWO represents a paradigm shift as the first injectable cellulite treatment approved by the FDA. It's especially effective for treating patients with moderate to severe cellulite.
How Does QWO Reduce Cellulite?
The most effective cellulite treatments target the fibrous connective tissue bands rather than fat cells, and that's true of QWO. What makes QWO different than procedures that involve physically severing those bands? QWO injections use certain enzymes to target the bands.
It's not exactly clear how these enzymes—called collagenases—dissolve the bands, but it appears that they break down the buildup of collagen. Not only does QWO release the fibrous bands, but the treatment also redistributes fat cells and stimulates the growth of new collagen.
What Happens During a QWO Treatment?
Our expert injectors, Carla and Stacy, begin the treatment sessions by marking the target areas with a pen. No anesthetic is needed, and the injections take only about 30 minutes. Injections are made directly into the dimpled skin using a small needle. No downtime is necessary, and you can return to your normal daily activities after leaving our practice. Because QWO treatments don't sever the bands, which is what happens with Cellfina® and Cellulaze®, the recovery is much simpler.
As you can see in these before-and-after photos of an actual patient after 2 treatments, the injections result in minor bruising: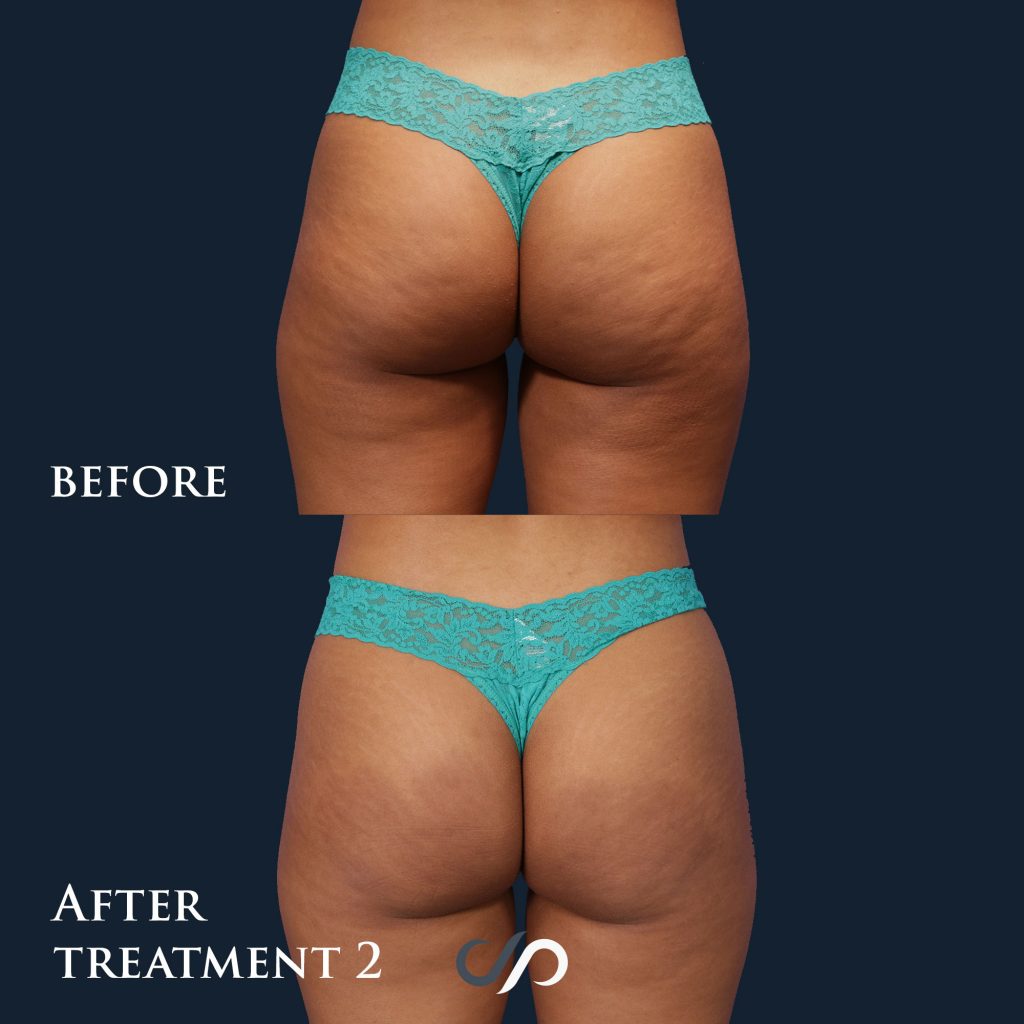 When Will I See Results From QWO Treatments?
QWO transforms the dimpled appearance of your buttocks into much smoother skin, producing results that look much more dramatic than other cellulite treatments available today. The results appear gradually as you complete the series of treatments, with visible changes occurring in about 10 weeks.
How Many QWO Treatments Are Needed?
Carla and Stacy develop custom treatment plans for each patient after determining that they can benefit from QWO injections. Many patients schedule 3 treatment sessions 21 days apart, with each visit including up to 2 treatment areas.
How Much Do QWO Injections Cost?
The price of QWO injections depends on the number of treatment sessions required. When you meet with one of our aesthetic specialists to discuss the procedure, we'll provide a price quote that you can review before making a decision about the treatment.
If you've been looking for an effective, long-lasting treatment for cellulite on your buttocks, QWO is an exciting solution. Contact our Marina del Rey practice by calling (310) 300-1779 to schedule an appointment or contact us using the online form to request a consultation.