It's not surprising that people thinking about combining multiple elective surgeries in a single operation have questions about whether doing so is safe. When a patient asks, "Is a Mommy Makeover safe?" I can answer confidently as a board-certified plastic surgeon who has conducted extensive clinical research on the safety of combined surgeries.
It's important to understand, however, that the safety of a Mommy Makeover depends on several factors, including your choice of surgeon, the specific procedures included in the operation, and the age and overall health of the patient.
Not All Mommy Makeovers Are the Same
Mommy Makeover is a vague phrase that doesn't really capture the breadth of procedures that may be part of the surgery. The combination of procedures typically includes body contouring and breast enhancement procedures, but the specifics can vary quite a bit. Even though most Mommy Makeover patients undergo a tummy tuck, in some cases, a more extensive technique that requires more time is necessary. For the breast enhancement portion of the procedure, some patients may need to combine a breast lift with augmentation to produce the desired results; others only need breast implants.
How long a Mommy Makeover procedure takes relates directly to the risks involved. All elective surgery includes some risk, but surgeons follow specific guidelines to reduce the chance of complications. For example, the surgery shouldn't take more than 6 hours because risk factors generally increase after that time. A tummy tuck alone may take 3 to 4 hours, so you can see that including many more procedures could jeopardize a patient's safety.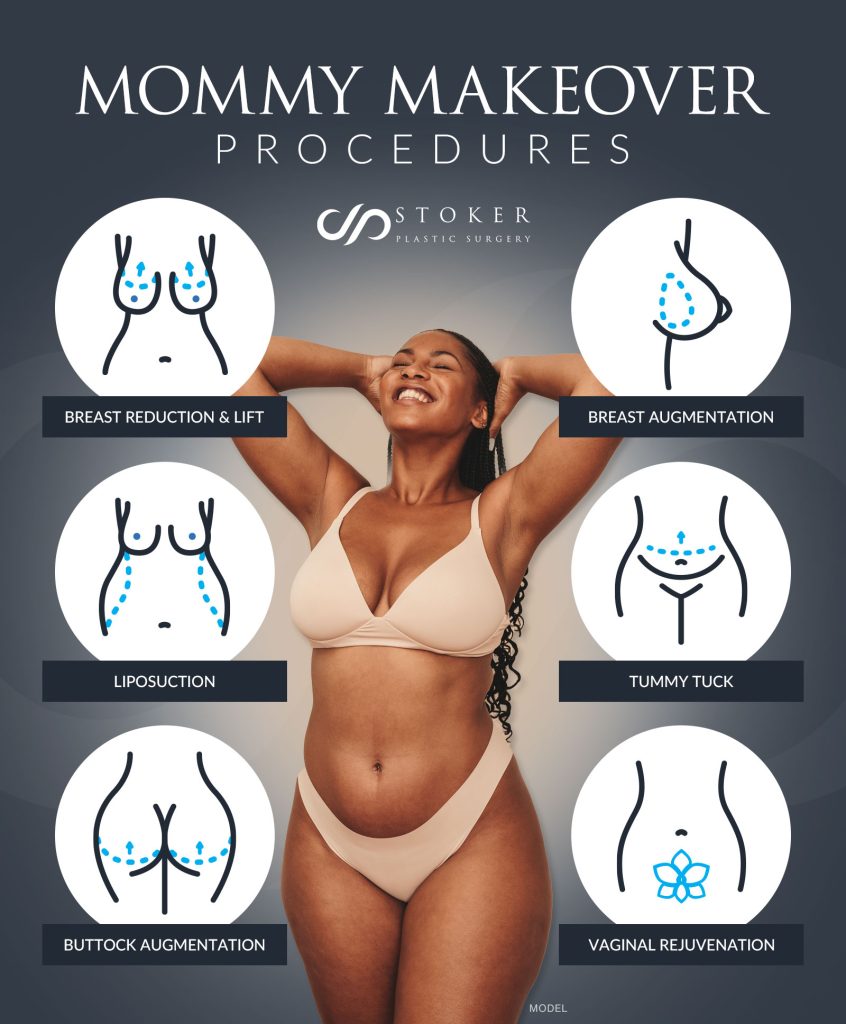 Are You a Good Candidate for a Mommy Makeover?
The safety of a Mommy Makeover—or any other elective cosmetic surgery—involves ensuring that patients are in good overall health. During a consultation, I'll discuss the importance of maintaining a healthy weight and lifestyle after the surgery to maintain the results.
BMI Requirements
Going into the surgery, a patient should have a body mass index (BMI) of less than 30 and have maintained a stable weight for at least 6 months. Being within 10 to 15 pounds of the weight you want to maintain is ideal.
You can use this BMI chart to calculate your body mass based on your current height and weight. BMI is useful for distinguishing between a "healthy weight" and an "ideal weight." While you might not be at your ideal weight (which may be unrealistic), being within a healthy range means surgery is still an option.
Pre-Surgical Clearance
As I mentioned in another blog post, you may need medical clearance before surgery. That could include an EKG and a mammogram. I also encourage my patients to engage in a healthy lifestyle and take care of any medical issues before the surgery. I recommend that they consume a diet rich in proteins and vitamins to help them heal after the operation and to take iron supplements if they have a history of anemia.
Timing
Some patients are eager to get their pre-pregnancy bodies back and want to schedule the procedure as soon as possible after having a baby. I advise them to wait at least 6 months after giving birth or 6 months after weaning a breastfed baby. Pregnancy and childbirth are obviously physically demanding, and the body needs sufficient time to heal before undergoing a major operation such as a Mommy Makeover. Additionally, breasts continue to change after breastfeeding.
You Get What You Pay For
Your health is too important to go bargain shopping for the least expensive Mommy Makeover option. We understand that patients have budgets, so we offer financing with attractive re-payment terms for qualified patients. Still, people tend to look for deals, which is a reason for the booming medical tourism market. The real bottom line, however, is that less cost typically means higher risk.
It's usually difficult to determine the training and experience of a surgeon in another country. U.S. surgeons certified by the American Board of Plastic Surgery (ABPS) meet rigorous standards requiring years of training. The risk of medical complications is significantly higher in many countries, where the training and experience required for certification often don't match U.S. criteria. And there are other issues with traveling outside the U.S. for plastic surgery. For example, traveling by airplane shortly after an operation is uncomfortable and can elevate the risk of complications. Treating those complications comes at a cost, which can rapidly turn the "bargain" into an expensive mistake.
Choosing a Plastic Surgeon
It probably goes without saying that your choice of a plastic surgeon impacts the safety of your Mommy Makeover. Your best bet is to limit your options to board-certified plastic surgeons. Start by looking at their websites, and ensure they have hundreds or even thousands of beautiful before and after pictures. Look at their reviews and make sure that patients, in general, seem happy.
Check out their social media accounts, and review their credentials. They should have extensive training in excellent programs. Ask surgeons how often they perform combination surgeries. Is it once a month? Once a year? If possible, ask other doctors, surgeons, nurses, or others in the medical community for recommendations.
Are You Considering a Mommy Makeover?
If you are thinking about a Mommy Makeover, I encourage you to consult with a board-certified plastic surgeon in the Los Angeles area to learn more about your options. You can contact our practice using the online form to request a consultation or call us at (310) 300-1779 to schedule an appointment.