The phrase "designer vagina" has evolved during the past decade or so to be a catch-all phrase that includes any vaginal rejuvenation treatment women get for cosmetic reasons. But women considering vaginal rejuvenation procedures often seek to improve both the function and appearance of their genitals. Labiaplasty, which I perform at my Los Angeles plastic surgery practice, is an effective procedure that goes beyond aesthetic enhancement.
Labiaplasty is popular, not only in Los Angeles but nationally. It is the most common aesthetic procedure for female genitalia. Plastic surgeons performed nearly 10,000 labiaplasty surgeries in 2020, according to the American Society of Plastic Surgeons, but that number doesn't include procedures performed by general gynecologists.
Why Do Women Choose To Get Labiaplasty?
The benefits of labiaplasty can be both functional and cosmetic. Weight loss, vaginal childbirth, and aging can cause the labia to become elongated or deflated. Excess labial tissue can get twisted and cause pain or irritation.
Some women want to restore the youthful appearance they had before having children. Still, other patients have always wanted to do something about excess labial skin, and they pursue labiaplasty as a solution. One thing most labiaplasty patients have in common is that they want to increase their comfort, especially when wearing tight clothing.
Reasons Women Get Labiaplasty (Besides Aesthetics)
Pain during activity: Excess tissue that causes the labia minora to hang down lower than the outer lips causes physical discomfort and pain during sexual activity and exercise.
Discomfort in clothing: Enlarged labia can make it difficult to wear tight clothing, such as yoga pants and swimsuits.
Self-consciousness: Elongated or excess labial tissue can cause women to feel embarrassed, especially in intimate situations.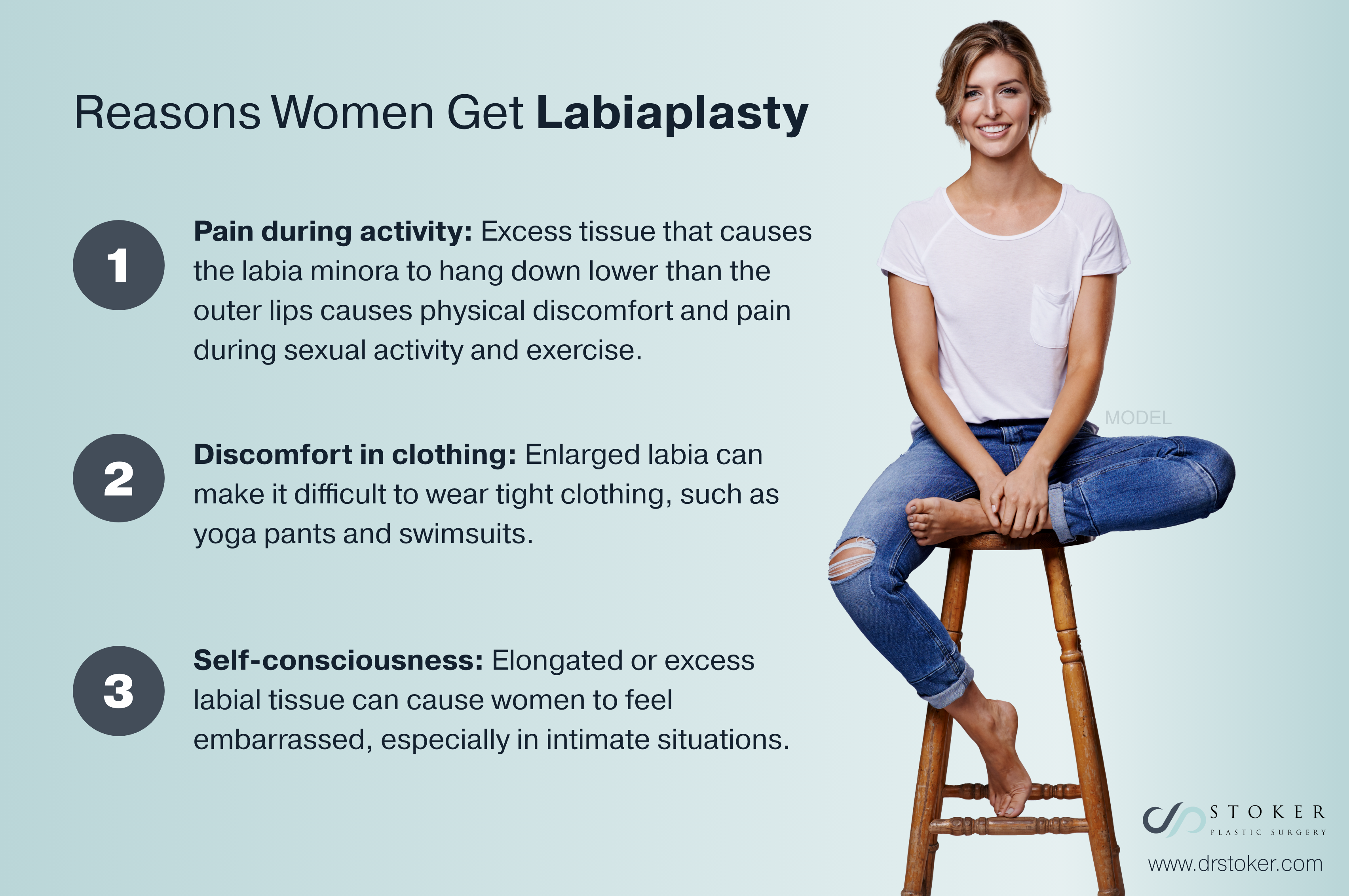 Labiaplasty vs. Vaginoplasty
Even though some patients use these phrases interchangeably, labiaplasty and vaginoplasty are distinct procedures that address different concerns. As explained earlier, labiaplasty often involves both cosmetic and functional issues. The procedure typically alters the vagina's inner lips, called the labia minora, but the procedure can be customized to change the appearance of the labia majora (outer lips) also.
To reshape the labia minora, there are 2 incision options. In most cases, I make what's called a trim incision to reduce excess skin. This incision runs vertically from the clitoris to the perineum (the area between the anus and the vagina). When the central folds of the labia minor are more prominent, a wedge incision can be used.
If labiaplasty involves the labia majora, I make incisions that are concealed in the "v" between the labia majora and labia minora to remove a portion of the lips near the inside edge.
Determining the best surgical approach for you depends on having an honest conversation with your plastic surgeon. This openness allows you to work together to select the option that will best meet your specific needs. Labiaplasty results are considered permanent, but the aging process will continue and eventually cause some changes in your results. Additionally, if you give birth vaginally after getting labiaplasty, the stretching will alter the labial tissues.
Another option for labiaplasty patients is clitoral hood reduction, a minor surgical procedure that removes excess skin covering the clitoris. It can change the clitoris' appearance and, in some cases, increase sensation.
You can see the results of labiaplasty procedures in our gallery of before-and-after photos.
Vaginoplasty
Women get vaginoplasty surgery to tighten the vagina, especially if they had a tear, episiotomy, or delivery that caused some stretching. Some patients may get a vaginoplasty because of pelvic-floor issues, such as incontinence, after multiple childbirths. And, in some cases, a patient wants to tighten a lax vagina to increase sexual pleasure. The surgery can be tailored to what the patient wants (within reason).
Recovery After Labiaplasty
If you decide to go forward with labiaplasty surgery, you should know that you'll need to abstain from sexual intercourse for 6 weeks. The initial recovery period only requires you to take off a few days from work. Exercise and other physical activities can be resumed after about 3 weeks.
What About Nonsurgical Vaginal Rejuvenation?
Energy-based devices for nonsurgical vaginal rejuvenation are more popular than ever, but it's important to know their limitations. The primary technology options include laser and radiofrequency (RF) devices. They all work in essentially the same way, causing the body to generate new collagen and elastin to tighten the vagina. Nonsurgical treatments, however, can't accomplish the changes to the labia that surgery produces.
Your Consultation
Many women find it difficult to discuss their concerns about the appearance of their genitals. It's a sensitive subject and I understand that. As a board-certified plastic surgeon with extensive experience, I can help you feel comfortable so that we can focus on the best surgical path to improve your quality of life. To request a consultation, you can use the online form or call our practice in Marina del Rey to schedule an appointment.