Is it possible to recover in 24 hours after breast augmentation? At my Los Angeles practice, I carefully plan and execute breast augmentation surgical plans for each patient, using techniques and state-of-the-art equipment that reduces recovery time. Most of the women I see who are considering breast implants lead busy lives, and these rapid recovery breast augmentation techniques are a game-changer for them.
Conventional Breast Augmentation Techniques
Modern breast augmentation surgery has been performed for decades, and techniques have continued to evolve throughout that time. Conventional breast augmentation surgery at this point involves making an incision at the base of the breast—called an inframammary incision—and then creating a pocket where the plastic surgeon inserts the implant. Creating this pocket causes a lot of trauma to the tissue.
Even though a local anesthetic injected into the breast area reduces pain and constricts the blood vessels to minimize bleeding during the procedure, the effects wear off fairly rapidly after the surgery. This bleeding causes pain and discomfort that often requires prescription pain medication.
What Makes Rapid Recovery Breast Augmentation Different?
Getting the excellent "L.A. Natural" breast augmentation results that you can see in our gallery of before-and-after photos using rapid recovery techniques starts with a detailed preoperative plan. I developed this plan based on information I learned during the consultation.
One of the most important factors in performing a successful rapid recovery breast augmentation procedure is ensuring that the breast implants are suitable for the patient's body type. This involves taking precise measurements and a thorough understanding of unique anatomic subtleties that vary from patient to patient.
"Dr. Stoker and his team were so caring and gentle with my surgery. He listened to what I wanted and used his expertise to guide me in the right direction. The recovery was so quick and easy that I was up and going to dinner the next day. I can't thank Dr. Stoker enough! So satisfied with my breast augmentation and everyone compliments how natural they look! [Single best thing is…] The results! He gave me so much confidence and made sure that my BA fit my body and didn't go overboard."


5-Star RealPatientRatings review, 9-29-2020
*Client testimonials are based on personal experience. Individual results may vary.
The Rapid Recovery Breast Augmentation Approach
Besides creating a comprehensive surgical plan, I use specific techniques to minimize bleeding during the procedure and swelling after the surgery. Another benefit is a shorter operation, although that's not the primary goal of using these techniques.
The 4 key techniques for producing predictable, beautiful outcomes and rapid recovery times include:
Minimizing trauma: A gentle approach during the procedure using special equipment and techniques significantly reduces discomfort following the surgery. This can be accomplished regardless of whether the implants are placed above or below the chest muscle or with a dual-plane placement.
Precision: As I mentioned earlier, creating implant pockets results in trauma to the tissue. I minimize this trauma and bleeding using precise, delicate pocket dissection techniques.
Touch-free augmentation: The innovative Keller Funnel® device enables surgeons to place implants without touching them. By limiting the handling of the implants, I reduce trauma and the risk of post-op infection that can lead to complications.
Long-lasting local anesthetic: Before closing the incisions, I inject Exparel®. This long-acting anesthetic reduces or even eliminates the need for opioids or other prescription medication to manage pain after surgery. Approved by the FDA in 2011, Exparel is now used by both cosmetic and general surgeons to improve recovery.
After the procedure, but before you leave the surgical center, we encourage you to raise your arms and move them as you would normally. We then provide detailed post-op instructions you should follow closely.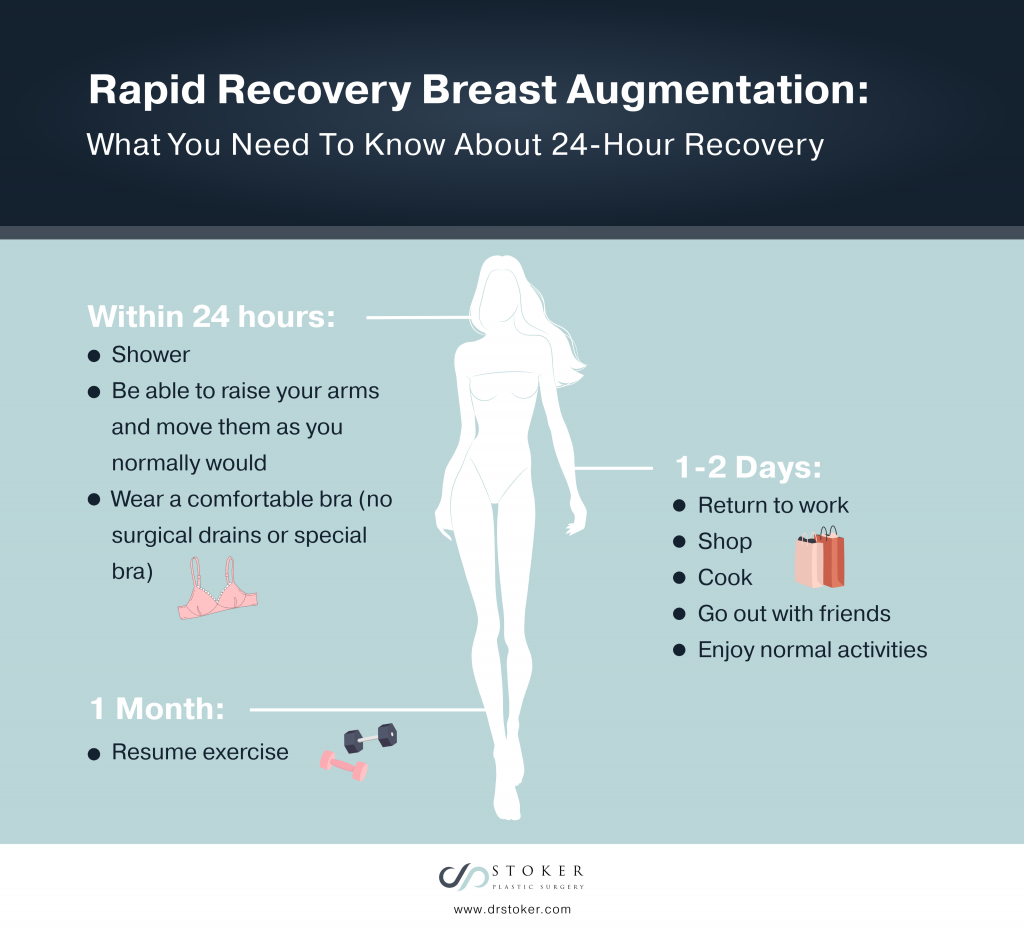 What Does Rapid Recovery Mean for You?
Aside from shorter recovery times, these advanced techniques offer several other advantages. By using less anesthesia and reducing the irritation normally associated with breast augmentation, our patients don't need post-op surgical drains or special bras. Most of our patients feel so little discomfort that they can shower the night of their procedures and plan on going out to dinner or shopping the next day.
Consider the benefit of getting breast implants on a Thursday and being back at work the following Monday. There's no need to use numerous vacation days recovering from surgery.
What About Exercising After Rapid Recovery Breast Augmentation?
Even though many patients resume their normal activities within 24 hours of breast augmentation surgery, you should still avoid workouts that increase your blood pressure. I recommend waiting several weeks before resuming strenuous exercise and even more time before putting excessive strain on the pectoral muscles.
Schedule a Consultation
If you're interested in learning more about rapid breast augmentation recovery techniques and L.A. Natural breast augmentation, request a consultation using the online form or give us a call at (310) 300-1779 to schedule an appointment.