Eye bags are a common cosmetic concern that can give men a haggard, grumpy, and aged appearance. If you find that you are looking perpetually tired and older than you feel, the good news is that you have several available solutions. In this blog post, we'll explore how to get rid of bags under the eyes for men interested in both surgical and nonsurgical options. Whether you want to pursue a surgical intervention such as eyelid surgery (blepharoplasty) or a minimally invasive treatment like dermal fillers, we'll guide you through your choices for a refreshed and rejuvenated appearance.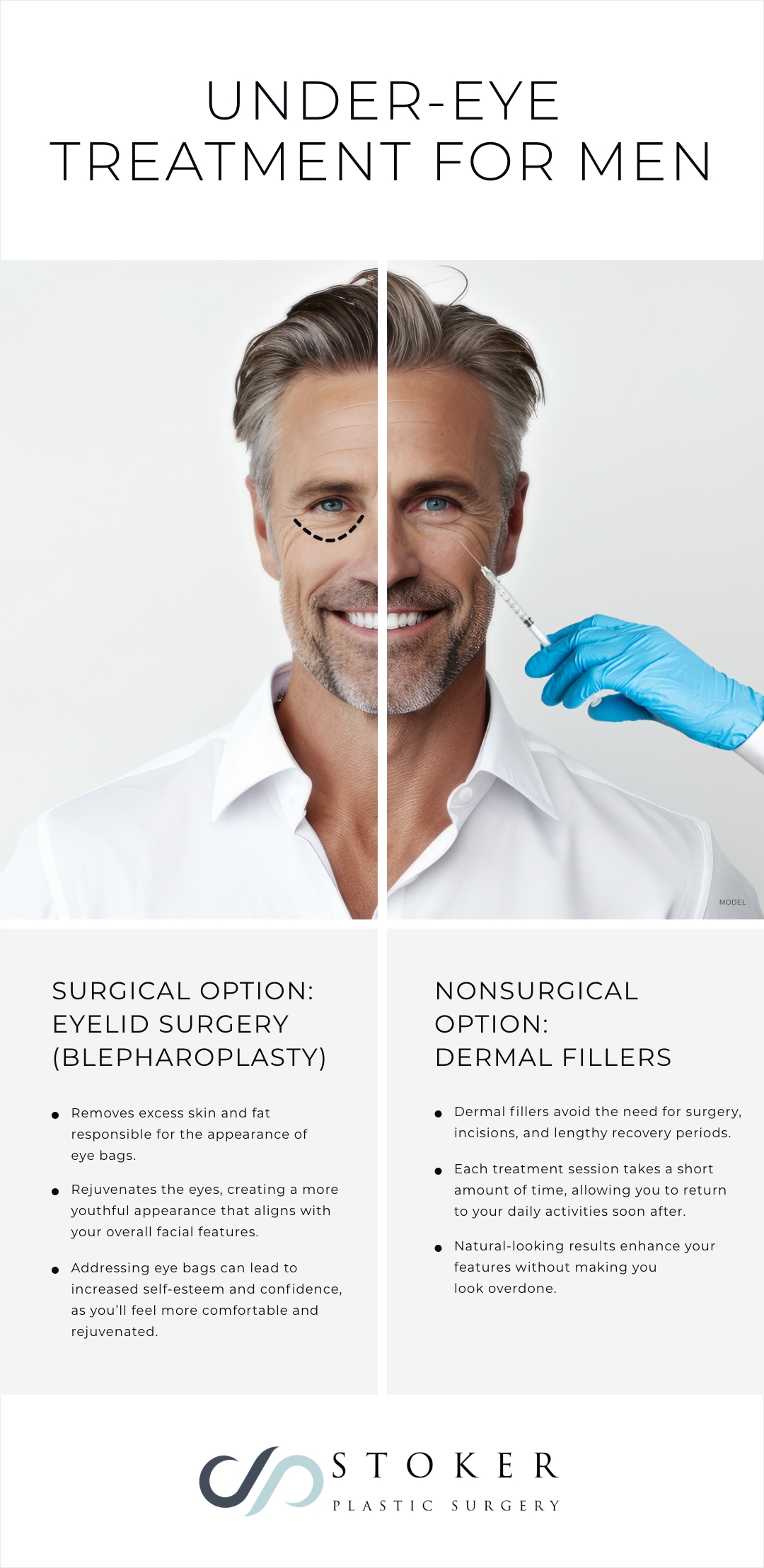 Understanding Eye Bags
Men can develop eye bags from a combination of factors, including genetics, aging, lifestyle, and environmental influences. As men (and women) age, the skin's elasticity decreases and facial fat shifts, leading to sagging and the accumulation of fat deposits beneath the eyes. Factors like stress, lack of sleep, and poor diet can also exacerbate fluid retention and "puffiness" in the under-eye area.
Surgical Option: Eyelid Surgery
For men seeking a more permanent solution to their under-eye bags, eyelid surgery is a popular choice. Blepharoplasty involves the removal of excess skin and fat from the upper and/or lower eyelids to create a smoother and more youthful eye appearance.
Here at Stoker Plastic Surgery, I offer specialized eyelid surgery for men to address the unique anatomical features of the male face. During this procedure, I smooth under-eye puffiness, tighten the skin around the eyes, and (if necessary) treat drooping and asymmetry in the upper eyelids. The subtle enhancement creates significant improvements in the eye area without looking feminine or unnatural.
Benefits of Eyelid Surgery for Men
Eyelid surgery can be particularly beneficial for men, offering them:
Long-lasting results: Eyelid surgery provides lasting improvements by removing the excess skin and fat responsible for the appearance of eye bags.
Enhanced aesthetics: The surgery rejuvenates the eyes, creating a more alert and youthful appearance that aligns with your overall facial features.
Improved self-confidence: Addressing eye bags may help increase self-esteem and confidence, as you'll feel more comfortable and vibrant.
The photos below and our before-and-after photo gallery show the amazing results that can be achieved with blepharoplasty.
Nonsurgical Option: Dermal Fillers
For men seeking a less invasive approach to address their under-eye bags, dermal fillers offer an excellent (but temporary) alternative to eyelid surgery. These injectables fill hollow facial areas, smooth wrinkles, and reduce the appearance of eye bags.
Dermal fillers replenish lost volume and stimulate collagen production to create a plumper and smoother under-eye area. The treatment is quick and requires minimal downtime, making it a convenient option for busy men.
Benefits of Dermal Fillers for Men
Like eyelid surgery, dermal fillers refresh the eye area and minimize the appearance of bags under the eyes. In addition, these treatments are:
Minimally Invasive: Dermal fillers avoid the need for surgery, incisions, and lengthy recovery periods.
Quick and Convenient: Each treatment session takes a short amount of time, allowing you to return to your daily activities soon after.
Natural-Looking: Skilled injectors, like those at Stoker Plastic Surgery, can achieve subtle, natural-looking results that enhance your features without making you look overdone.
See what under-eye fillers can achieve in our before-and-after photo gallery and the photos below.
Our Approach to Nonsurgical Solutions
At Stoker Plastic Surgery, our expertise in rejuvenating a man's face with dermal fillers is backed by a deep understanding of facial anatomy and a commitment to achieving natural-looking results. We carefully assess the patient's concerns and devise a personalized treatment plan—one that skillfully addresses under-eye bags while preserving masculine features.
Combining Surgical and Nonsurgical Treatments
In some cases, combining surgical and nonsurgical approaches may yield the best results. For instance, a patient might choose to undergo eyelid surgery to address severe under-eye bags and then complement the results with dermal fillers for comprehensive rejuvenation. Our expert team can create a customized treatment plan that incorporates both eyelid surgery and dermal fillers to help you achieve your optimal results.
Look & Feel Vibrant Again
Eye bags don't have to be a permanent feature of your appearance. Thanks to advances in both surgical and nonsurgical techniques, men now have effective options to combat under-eye puffiness and achieve a rejuvenated look. With our practice's expertise in male plastic surgery and in-depth knowledge of facial anatomy, patients can achieve natural and transformative results.
Please request a consultation or call us at (310) 300-1779 to learn more about the best treatment options for you.