If you're considering a plastic surgery procedure, you may find that talking to someone who's been there is a wonderful way to learn the details of your surgery from a patient's perspective. My past facelift patient, Los Angeles-area resident Allison, has graciously agreed to answer a few questions about her experience.
Q: When did you first consider facelift surgery?
A: When I had initially lost weight, I realized I had lots of folds of skin under my face, especially my chin and neck area. I really didn't know anything about cosmetic procedures. I had a casual opportunity to ask a surgeon that I had briefly been introduced to about what could be done, and I was told that only a facelift would solve the problem. It took me another couple of years to accept that was my only viable option.
Q: Did you ever consider nonsurgical options instead of a facelift? If so, what made you move forward with the surgical option?
A: Although I trusted that I had been given the right information, I kept hoping that if I gave it time, and I used fancy face creams, it would magically tighten up. Wrong! I decided to pursue a facelift after I had my first plastic surgery (a tummy tuck and breast lift) with Dr. Stoker. My recovery and results from that surgery were flawless. And because his skills and the quality of care are so outstanding, I simply couldn't imagine putting myself into the care of another surgeon.
Q: How did you start your search for a plastic surgeon?
A: Mostly through online research, initially. However, this can quickly become overwhelming, especially here in LA where there are so many surgeons to choose from. Once I had made the decision to definitely pursue surgery, I met with a friend who had already met Dr. Stoker.
Q: How did you find Dr. Stoker?
A: Once I had made the decision to definitely pursue surgery, I talked to a friend who had surgery with another doctor. My friend didn't love her results, but she had a friend who had undergone a mommy makeover with Dr. Stoker and this friend was thrilled with her results. I went to meet her and was really impressed with his work. I knew I wanted similar results.
Q: Why did you choose Dr. Stoker?
A: I wanted a really good surgeon who was highly skilled, safety-conscious, and confident, and I wanted a surgeon who cared about the final aesthetic. Once I met Dr. Stoker, I knew that he was going to be able to deliver the results I wanted. Because he's so skilled, I knew that any risk of complications would be minimized.
Q: What questions did you have before your consultation?
A: I had done a ton of research and I brought in 4 pages of questions. I wanted to know everything about emergency protocols, recovery and aftercare, and pre-op testing. I wanted to know about his knowledge and his background, too. No detail was too small.
Q: What was the consultation like?
A: Very professional. He was very warm and welcoming, very patient, and he answered all my questions and spent a long time with me. He went over the procedure in detail. He lifted up my skin to try to show me how my results would look.
Q: What were your thoughts and fears before undergoing surgery?
A: Although I was internally nervous, I maintained a very calm demeanor. Of course, with any kind of facial procedure, you're hoping that you don't come out of surgery looking worse or that you're making a huge mistake. Ultimately, I just had great confidence in Dr. Stoker and therefore I felt quite calm about it.
Q: Describe your feelings on the morning of your surgery.
A: I had a kind of nervous excitement, and I was naturally a little anxious. But generally, I was fairly calm.
Q: What was your short- and long-term recovery like?
A: This was the part of surgery that surprised me the most. When I tell people about the process, everybody is astounded when I tell them that I felt no actual pain. I have had multiple major surgeries with Dr. Stoker, and the facelift was the easiest of them all. You feel a tightness and a tenderness, and you certainly don't look your best at that point, but in terms of physical recovery, it was really easy. Definitely much easier than any body contouring procedure because I was completely mobile and I felt good.
Q: When did you first see results?
A: I'm not sure, that part is a little hazy. By the end of the first day, I was so bandaged up that I couldn't really see very much anyway. And then I swelled so tremendously that I didn't recognize myself for a few days. Emotionally, it can take a while to recognize what you look like because you're so used to seeing saggy skin. When that's removed, you just look different. I remember it took a while for the swelling to go down, so it's definitely a procedure that requires patience. But I do remember that by 4 weeks I was completely transformed and all the swelling had disappeared.
Q: What has the transformation done for you both emotionally and physically?
A: I think because I had a tummy tuck first, I felt that my body looked great but my face didn't. After my facelift I felt like my face matched the rest of my body. I was less self-conscious and more confident. If you don't feel confident about how your face looks, this surgery is really worth the investment. When you feel good about your appearance, you feel good emotionally. I also felt like I was not so camera shy when I was out with friends. Since everything gets documented and put on social media these days, that sense of confidence is invaluable.
Q: What advice would you give to someone who is considering a facelift?
A: Go see Dr. Stoker! You will be happy that you did it. Obviously, you should be thorough in your research. Choose a skilled and experienced surgeon in whom you have confidence, and don't be shy about asking difficult questions. For me, it was a fantastic decision. I had a great experience and Dr. Stoker was there for me whenever I needed to see him or ask a question.
Q: How did friends and family react to the results?
A: They were pretty much blown away, although they were polite about it. However, it's much more fun showing people who didn't know me what I looked like pre-facelift. Their reaction is always a "double take." They say things like, "No, that isn't you," usually followed by, "Your doctor is amazing." The one thing that everyone comments on is how I have no physical scars. You really can't see any of the incisions.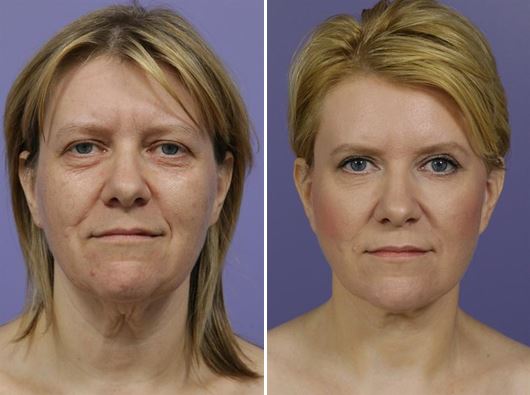 Q: Would you recommend the procedure to family and friends?
A: Absolutely. In fact, I've done so frequently!
Q: What surprised you the most about the facelift process?
A: The painlessness was the most surprising, as well as just how good I felt in general. It was just so easy.
Q: Anything else you'd like to add?
A: I had posted my personal before-and-after pictures on a well-known website for people considering plastic surgery. Unbeknownst to me, the pictures were screenshotted and have been used by various cosmetic companies to try to sell face creams. At first I was offended by the audacity, but really I'm so flattered. It goes to show how well Dr. Stoker did. I regularly get emails from my friends saying that they've just seen my pictures associated with some online company trying to sell a product. So by participating in this Q&A, hopefully people will see that there were no magical face creams involved. Just the talent of a really great doctor!
For more questions and answers about facelift, check out Dr. Stoker's facelift FAQ.